15 Budget Friendly Kitchen Curtain Ideas
Do you love sprucing up your kitchen with beautiful curtains? If you are you looking for a list of easy kitchen curtain ideas that you can sew you've landed in the right place. 
We've compiled a list of 15 exciting kitchen curtain projects that any beginner or advanced sewist can try.
Why Should You Sew Your Own Kitchen Curtains?
Let's face it:
Sometimes, finding the right type of curtains for a kitchen can be challenging. 
Plus… when it comes to kitchen makeovers dwindling finances may put a damper on your kitchen makeover plans.
Here's the best part guys…
You'll be delighted to know that it's quite possible to implement your kitchen curtain ideas without having to spend a fortune. It's important that your kitchen stays properly aerated and bathed in natural sunlight during the day.
Your choice of curtains will therefore matter a lot. Get those that have your preferred color, style and orientation. Have a look at some exquisite kitchen curtain ideas you can actualize in your home.
Our Favorite 15 Budget Friendly Kitchen Curtain Ideas for Sewing Projects
We've rounded up some of our favorite kitchen curtain ideas and sewing projects that any one can tackle. 
We've also included a fun video tutorial from PattyMac Makes that you can use + follow along as a guide for creating your kitchen curtains.
Without further ado, here is the list of our 15 creative kitchen curtain ideas:
#1:  The Café Curtains
These are classy curtains that you can put across the window or space of your kitchen's café area. These short-tier curtains have three pieces in total.
The bottom half window section is covered using two intricately designed pieces while the upper half section is covered with a valance. They allow plenty of light into the room while at the same time maintaining a high sense of privacy.
They also bring an aura of elegance into your kitchen. You'll require a tension rod when setting up these tires. Alternatively, you could use curtain clips to implement such kitchen curtain ideas.
Recommended DIY Tutorial:   How to Sew Cafe Curtains (DIY Mommy)
#2:  Roman Shades
Most kitchens have a window located just above the sink. With a little sprucing up, you could turn this kitchen area into a glamorous section.
The Roman shades could look perfect here. They are filled with beautiful shapes and colors, adding some much-needed decorative aesthetics to your kitchen.
Well selected Roman shades could even compliment most of your architectural details naturally. Therefore, put several things into consideration (such as your kitchen's theme) before heading out to purchase the foldable Roman shades.
Recommended DIY Tutorial:  Roman Shade Tutorial (Sew a Fine Seam)
#4: Sheer Curtains
Nothing beats the elegance of a kitchen with sheer curtains. It gives this space a simple, clean look and also ushers in a lot of natural light. Sheer curtains can be placed on the window above your sink.
Alternatively, they can be used to conceal the glass door that leads to the guest patio. Majority of sheer curtains have neutral colors which allow them to blend in with your kitchen's furniture design or paint color.
They also give you the freedom to add as many paintings and accessories as you desire. it's one of the most inexpensive kitchen garden ideas.
Recommended DIY Tutorial: DIY Layered Sheer Curtains (Good Houskeeping)
#5: Country Kitchen Curtains
The most important aspects of any country kitchen are warmth and homeliness. Therefore, as you implement your kitchen curtain ideas, think outside the box.
You could even place floral curtains, pastels or plaids on your kitchen windows to give your guests a welcoming feel. For instance, you can hang a plaid material loosely from your curtain rods to create a cozy, harmonized aura that brings joy to the heart.
#6: Regular Curtain Panels
If you desire to give your kitchen a classy, architectural look this curtain will do it perfectly. It comes in a blue and gray color. It has exquisite hypnotic patterns that are bound to capture the attention of your guests.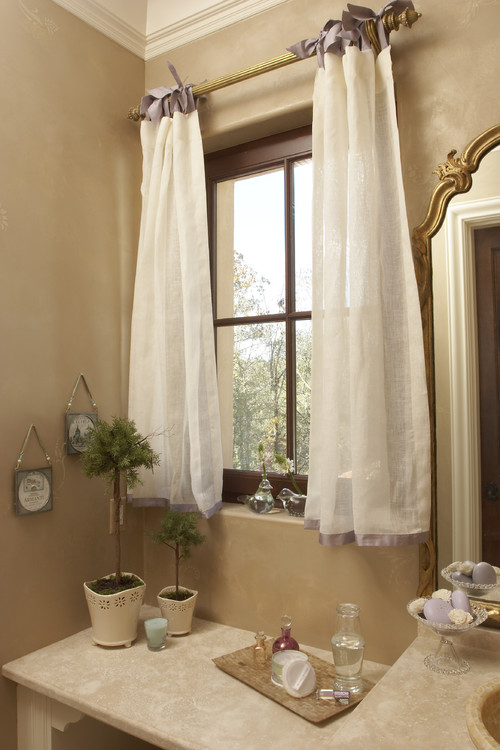 When closed, it allows very little light to enter through. However, you're guaranteed to get the best privacy. Since it has neutral colors, it can be placed anywhere in your kitchen without interrupting the general theme.
Recommended DIY Tutorial:  How to Make Kitchen Curtains (WikiHow)
#7: Grommet Curtain Panels
If you want an affordable curtain that will still add color and elegance to your kitchen, we recommend this marvelous curtain. As its name suggests, it essentially has two colors that contrast each other remarkably.
The upper section of this curtain is white while the lower part has a darker color. It creates a wow effect in your kitchen as it complements your wall pictures and your furniture.
Recommended DIY Tutorial: How to Make Top Grommet Curtains (The Shabby Creek Cottage)
#8:  Peakaboo Curtains
Want to add some vintage style and charm to your kitchen windows? If you do then you should definitely try the Peakaboo window curtains.
These curtains have a panel (valance) on the top of them with two side panels opened in the middle to create the "peakaboo" look and will add a lot of charm and character to your kitchen or dining room windows.
Recommended DIY Tutorial: How to Make Top Grommet Curtains (The Shabby Creek Cottage)
#9: Decorative Trimmed Panels
One of the best ways to spice up a plain jane kitchen curtain fabric is to add a decorative trim to them.  Take these curtains shown below from Jenna at JennaBurger.com.
These curtains look amazing.  Sewing these curtains basically involve creating two curtain panels and just adding a nice trim of your choice to the bottom or sides of them.
Recommended DIY Tutorial: How-To Add Decorative Trim to Curtains for Cheap (JennaBurger.com)
#10: Box Pleat Valance
We were excited to find this awesome tutorial from Exquistley Remarkable that walks you through how to create a Box Pleat Valance.  The results are simply amazing!
Whether you are a just getting started with sewing or have been sewing for a while, this is an easy sewing project that any one can tackle.
Creating this valance pretty much involves first creating a valance and then adding a few pleats to it to give it a boxed look. These curtains will surely make any kitchen window look beautiful.
Recommended DIY Tutorial:  How To Make A Box Pleat Valance  (Exquistley Remarkable)
#11: Scalloped Valances
Scalloped valances are some of the most beautiful curtains we've come across for kitchen windows. Based on the tutorial that we are sharing from Melly Sews, these curtains will require a tad bit more precision in the cuts of your fabric in order for them to turn out correctly.
We love how creative Melissa got with creating these valances.  She actually used a dinner plate to carve out the patterns to create this scalloped valance.   That is pretty amazing stuff!
Recommended DIY Tutorial:  Scalloped Curtains or Valances Tutorial  (MellySews.com)
#12: Balloon Curtain Valance 
Speaking of valances, another great design that will surely take your kitchen windows from ho hum to hot is the balloon valance. We discovered this kitchen curtain idea from Linda over at It All Started with Paint.
This is a super cute and trendy project that we believe would definitely brighten up your kitchen windows and make it feel more inviting. Linda has also graciously included recommended hardware to use plus detailed steps on how to create a stylish balloon valance like a pro!
Recommended DIY Tutorial:  How to Make a Balloon Shade Tutorial (It All Starts with Paint)
#13: Ribbon-Tie Valance
The ribbon tie valance is …as the name implies a curtain valance that has ribbons on it.  We ran across this great tutorial from Rachels nest that shows you how to create a ribbon-tie valance using the fabric and sewing machine of your choice.
To create this valance, you will need a fabric of your choice, a larger sized ribbon and additional basic sewing supplies. We are sure that this kitchen curtain valance will be a show stopper.
Recommended DIY Tutorial:  Ribbon Tie Valance Tutorial (It All Starts with Paint)
#14: Rod Pocket Curtains
Rod Pocket curtains are easily some of the most popular curtain projects to sew and require a "tension rod" to create the "scrunchy" effect at the top of your curtains design.
Thats why we are thrilled to share this great tutorial from Shannon over at OfTheHeart.com on how she created simple rod pocket curtains for her home.  
Recommended DIY Tutorial: How to Sew Simple Rod Pocket Curtains (OftheHeart.com)
#15: Simple Farmhouse Curtains
These simple farmhouse curtains that Maria from MariaLouiseDesign.com put together are super cute and dont require much to put together.
And here's the best part: They only cost Maria $25 to make!
Maria used a simple sheer fabric to make these curtains and a piece of stained wood to give it a farmhouse look.  Here again, with these curtains you can use a fabric of your choice to spice up your designs a bit if you want to add more pizzaz to your kitchen.
Recommended DIY Tutorial: Simple Farmhouse Window Treatments (MariaLouiseDesign.com)
Wrapping up the Post
We really hope that you enjoyed this list of kitchen curtain ideas that you can sew to make your kitchen look stylish and beautiful.
The best thing about making your own kitchen curtains is that you can choose the right fabric to dress up your kitchen and save a lot of money in the process.
And before we forget, be sure to check out our list of great sewing machines for beginners and sewing enthusiasts.
Happy Sewing!