Do you love sprucing up your kitchen with beautiful curtains? The kitchen is every lady's source of joy. However, dwindling finances may jeopardize your kitchen makeover plans.
You'll be delighted to know that it's quite possible to implement your kitchen curtain ideas without having to spend a fortune. It's important that your kitchen stays properly aerated and bathed in natural sunlight during the day.
Your choice of curtains will therefore matter a lot. Get those that have your preferred color, style and orientation. Have a look at some exquisite kitchen curtain ideas you can actualize in your home.
Our Favorite 7 Budget Friendly Kitchen Curtain Ideas
#1:  The Café Curtains
These are classy curtains that you can put across the window or space of your kitchen's café area. These short-tier curtains have three pieces in total.
The bottom half window section is covered using two intricately designed pieces while the upper half section is covered with a valance. They allow plenty of light into the room while at the same time maintaining a high sense of privacy.
They also bring an aura of elegance into your kitchen. You'll require a tension rod when setting up these tires. Alternatively, you could use curtain clips to implement such kitchen curtain ideas.
Recommended DIY Tutorial:   How to Sew Cafe Curtains (DIY Mommy)
#2:  Roman Shades
Most kitchens have a window located just above the sink. With a little sprucing up, you could turn this kitchen area into a glamorous section.
The Roman shades could look perfect here. They are filled with beautiful shapes and colors, adding some much-needed decorative aesthetics to your kitchen.
Well selected Roman shades could even compliment most of your architectural details naturally. Therefore, put several things into consideration (such as your kitchen's theme) before heading out to purchase the foldable Roman shades.
Recommended DIY Tutorial:  Roman Shade Tutorial (Sew a Fine Seam)
#4: Sheer Curtains
Nothing beats the elegance of a kitchen with sheer curtains. It gives this space a simple, clean look and also ushers in a lot of natural light. Sheer curtains can be placed on the window above your sink.
Alternatively, they can be used to conceal the glass door that leads to the guest patio. Majority of sheer curtains have neutral colors which allow them to blend in with your kitchen's furniture design or paint color.
They also give you the freedom to add as many paintings and accessories as you desire. it's one of the most inexpensive kitchen garden ideas.
Recommended DIY Tutorial: DIY Layered Sheer Curtains (Good Houskeeping)
#5: Country Kitchen Curtains
The most important aspects of any country kitchen are warmth and homeliness. Therefore, as you implement your kitchen curtain ideas, think outside the box.
You could even place floral curtains, pastels or plaids on your kitchen windows to give your guests a welcoming feel. For instance, you can hang a plaid material loosely from your curtain rods to create a cozy, harmonized aura that brings joy to the heart.
Recommended DIY Tutorial:  How to Make Cheap & Easy Country Curtains (Home Guides)
#6: Regular Curtain Panels
If you desire to give your kitchen a classy, architectural look this curtain will do it perfectly. It comes in a blue and gray color. It has exquisite hypnotic patterns that are bound to capture the attention of your guests.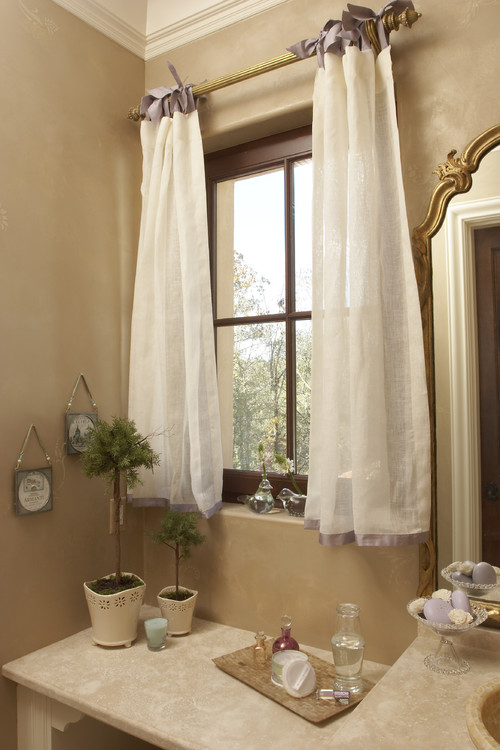 When closed, it allows very little light to enter through. However, you're guaranteed to get the best privacy. Since it has neutral colors, it can be placed anywhere in your kitchen without interrupting the general theme.
Recommended DIY Tutorial:  How to Make Kitchen Curtains (WikiHow)
#7: Grommet Curtain Panels
If you want an affordable curtain that will still add color and elegance to your kitchen, I recommend this marvelous curtain. As its name suggests, it essentially has two colors that contrast each other remarkably.
The upper section of this curtain is white while the lower part has a darker color. It creates a wow effect in your kitchen as it complements your wall pictures and your furniture.
Recommended DIY Tutorial: How to Make Top Grommet Curtains (The Shabby Creek Cottage)
Happy Sewing!